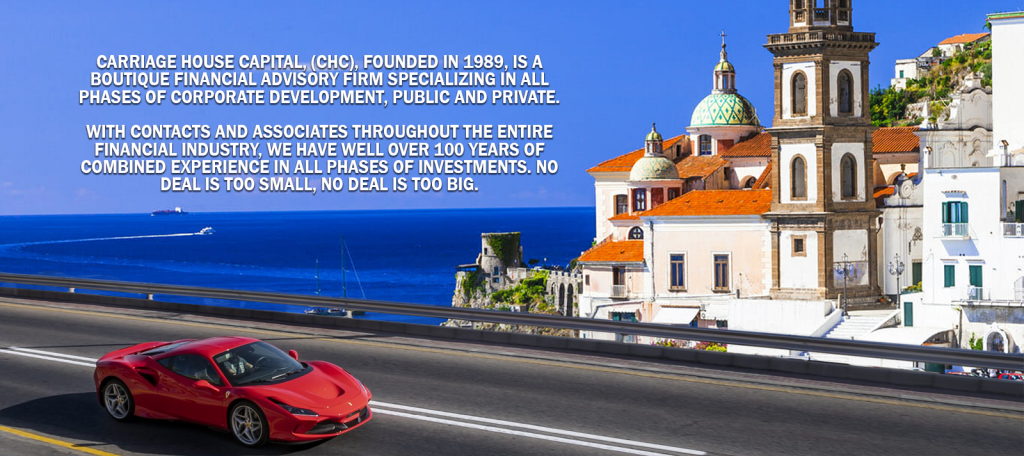 CARRIAGE HOUSE CAPITAL is one of the very few consulting firms that does not charge exorbitant up-front fees,and in most cases we don't charge any up-front fees. Whether its structuring your company, going public, mergers or acquisitions, power points, web design, announcements, we can assist you. Our associates include, attorneys, accountants, transfer agents, marketing and Public Relation experts.
---
The Carriage House Capital Difference
NO UP FRONT FEES. YOU PAY WHEN WE'RE SUCCESSFUL
OUR WORLDWIDE AFFILIATES HAVE OVER 200 YEARS WALL STREET EXPERIENCE.
WANT TO GO PUBLIC? NEED PROJECT FUNDING? NEED AN EQUITY INFUSION?
WE HAVE DIRECT CONTACT WITH *SPACS. $50 MILLION AND UP
*SPACS-A special purpose acquisition company (SPAC) is a company with no commercial operations
that is formed strictly to raise capital through an initial public offering (IPO) for the purpose of acquiring an existing company.
PROJECT FUNDING-BUILDINGS, FACTORIES. LONG TERM OR SORT TERM. CONSTRUCTION, OR PERMANENT.
WE CAN FUND SBLC'S OVER $50 MILLION
REVERSE MERGERS WITH PUBLIC COMPANIES.